We have made force measurement our focus, so you can keep your own.
Impetux's exclusive, patented technology leads you where other force methods cannot. Our products represent a change in the force measurement field, making possible and simple the experiments where traditional trap stiffness calibration fails.
The Lunam™ T-40i condenses our ten-year expertise with force sensing technology and includes the latest developments. The Lunam series provide you with the confidence and reliability that your experiments require so you only need to worry about the results.
The key of our technology is that our systems measure the force as a derived magnitude of the direction of propagation of the beam, instead of the sample position, which provides a direct route to the force. After an accurate calibration at factory, the deflection of the beam produced by the sample directly corresponds to the optical force exerted on the particle. This gives our technology an advantage, as no restrictions on the sample are imposed.
Data Acquisition and Processing
For a complete solution, the Lunam™ T-40i additionally integrates a traditional calibration mode, to obtain trap stiffness and position measurements with nanometer precision.
The standalone Windows application makes easy for the user to make these calibrations, as well as acquire, visualize and store the data generated by the Lunam™'s sensor. Data can be streamed to disk in real time for extended periods of time and the files are compatible with a host of data processing software, including Excel, MATLAB, LabVIEW, and Origin.
We can optionally provide a companion data processing suite. The application includes a complete set of visualization modes and mathematical functions and is optimized to handle the large data sets generated in many experiments.
Dual measurement mode: position calibration through back-plane interferometry and detection of light momentum for single movable traps.
Compact, symmetric opto-mechanical design, compatible with the illumination columns T-DH and TI-DH of Nikon microscopes (TE2000 and Ti).
Straightforward installation and tuning routines ensure correct measurements and reproducibility (eyepiece with Bertrand lens incorporated or Centering Scope required).
High Numerical-Aperture (NA=1.4) immersion optics. Optical design optimized for λ=1064 nm.
Maximum laser power at the sample: 300 mW  (Check with us different power ranges to fit your needs).
Force resolution <50 fN.
Position resolution <1 nm (typ.).
Integrated sensor noise over the whole bandwidth <0.1 pN (typ.).
Temperature-compensated, duo-lateral position sensitive detector (PSD) (max. sampling frequency 100 kHz).
Up to 100 kHz, 18-bit, analog-to-digital conversion.
Direct PC communication through Hi-speed USB 2.0 port.
Highly-regulated, low-noise linear power supply (models with 100/120/220/240 VAC- 50/60 Hz available).
Acquisition software and LabVIEW libraries included.
Dimensions of the sensor head (L x H x W): 22 x 18  x 11 cm.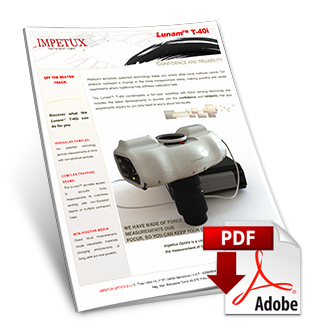 Discover what Lunam T-40i
can do for you
NON-SPHERICAL SAMPLES
Our patented technology permits measurements of force with non-spherical particles.
COMPLEX TRAPPING BEAMS
The Lunam™ provides access to accurate force measurements to customers working with non-Gaussian beams or multiple permanent traps.
 NON-VISCOUS MEDIA
Direct force measurements inside viscoelastic materials, changing environments or living cells are now possible.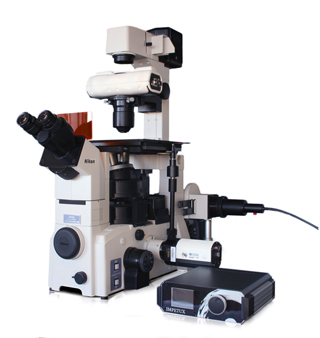 NO CALIBRATION
Our patented technology permits measurements of force without the repetitive and time-consuming, error-prone calibrations of other systems.
 ADDITIONAL EXPERIMENTAL QUANTITIES
Laser power at the sample and ambient temperature are also provided by the system, for convenience in the analysis of experimental results. Viscosity of the medium and size of sample can be easily obtained as well.
EASY INSTALLATION AND OPERATION
The Lunam™ replaces the microscope condenser and can be installed and set in operation through a simple procedure even by non-expert users.