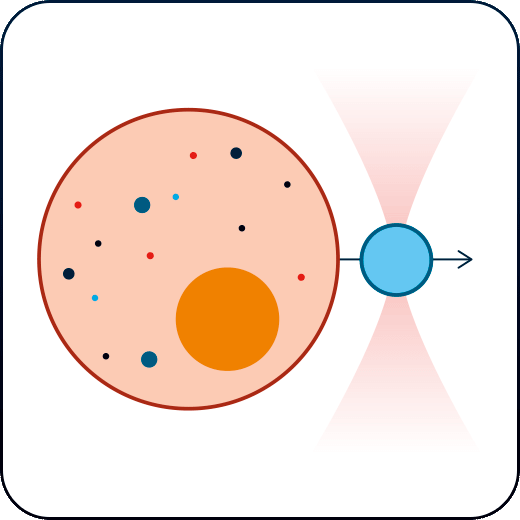 Tether Pulling.
Use SENSOCELL to study cell membrane mechanics .
Perform membrane tether pulling experiments with cultured cells & explants.

Use our customizable routines or create your own routines using

LightAce SDK

.
Would you like to try SENSOCELL with your biological system samples? Let's do it, contact us! 
Membrane tether pulling on neurons and HELA cells.
In collaboration with the Institute of Photonic Sciences (ICFO). Courtesy of Dr. Michael Krieg.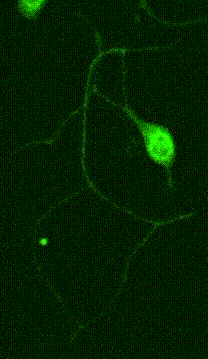 Back and forth motion of a trapped fluorescent bead towards a neuron axon in a tether pulling experiment.
Cell membrane tether pulling video
Using IMPETUX's SENSOCELL optical tweezers platform, a membrane tether pulling experiment was performed by adhering a 1 µm optically trapped fluorescent bead to a neuron. When the adhered bead is pulled away, a lipid filament (tether) is extruded from the cell surface (Fig.1).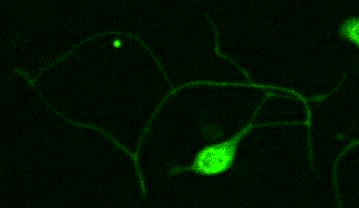 Fig.1 Top; scheme of a tether pulling experiment performed on a neuron. Bottom: Image showing a trapped fluorescent bead moving towards a neuron axon in one of the experiments.
​The tether is elongated during consecutive pulling steps producing force peaks. After each pulling step, the bead is kept fixed for a certain period of time. During this time, the cell adds material to the membrane tether and the force signal decays. Different pulling rates can be applied at subsequent steps using SENSOCELL's customizable routines. The system monitors the applied force and bead position at real time.
Below, Fig. 2 shows the force and trap position data for each subsequent pulling and relaxation steps. In this case, the tether is pulled at increasing speeds to produce force peaks of increasing height. A model (Datar et al. Biophys J. 2015 Feb 3; 108(3): 489–497) is used to fit the force decay response during relaxation.

Fig. 2 Force and trap position signal during a tether pulling experiment performed on a neuron axon. The pulling rate is increased for each subsequent step. Fitting of force data during the relaxation process after each pulling step is shown in red.
The same type of experiment was performed on HELA cancer cells. Fig. 3 shows the formed membrane tether generated from a HELA cancer cell and attached to the pulling bead:

Fig. 3 Membrane tether formed from a HELA cancer cell during an experiment.
Similarly, Fig. 4 shows the force and trap position data obtained two different experiments performed on HELA cancer cells (blue and red data are for high and low pulling rates respectively). Note that the force signal has negative sign due to the chosen pulling direction.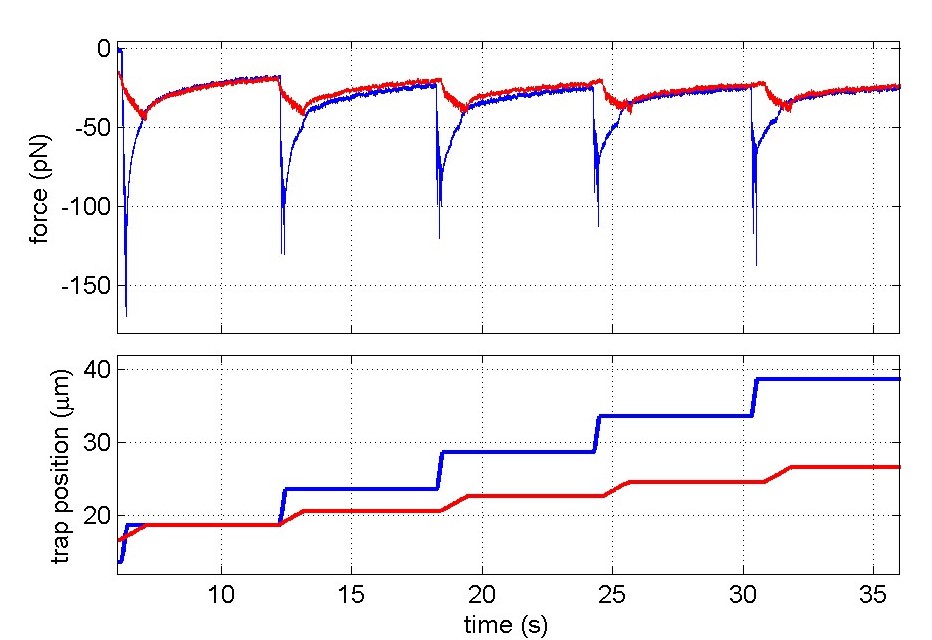 Fig. 4 Force and trap position data obtained during two different (blue and red data) experiments performed on a HELA cancer cells. The applied pulling rate is higher for the blue data than for the red data.
Related publications:
This article is a preprint.
Download SENSOCELL optical tweezers brochure