Scientific Publications related with optical tweezers
A wide optical tweezers review from different points of view.
Scientific Publications from IMPETUX's customers:
Bellow you will find a wide optical tweezers review for different applications with the latest publications with impressive examples and results obtained with our systems:
March 2022
---
The laminin-keratin link shields the nucleus from mechanical deformation and signaling
Zanetta Kechagia, Pablo Sáez, Manuel Gómez-González, Martín Zamarbide, Ion Andreu, Thijs Koorman, Amy E.M. Beedle, Patrick W.B. Derksen, Xavier Trepat, Marino Arroyo,  Pere Roca-Cusachs
doi: https://doi.org/10.1101/2022.03.01.482474
In this work, the labs of Pere Roca-Cusachs and Xavier Trepat (IBEC, Barcelona) investigate how the rigidity of a laminin based extracellular environment influence mechanotransduction in mammary epithelial cell models.
This article is a pre-print, and you will find it here
March  2022
---
Video Protocol for Direct Force Measurements of Subcellular Mechanics in Confinement using Optical Tweezers
Frederic Català-Castro, Valeria Venturini, Santiago Ortiz-Vásquez, Verena Ruprecht, Michael Krieg
JoVE Journal: DOI: 10.3791/62865-v
Here, the authors present a protocol to investigate the intracellular mechanical properties of isolated embryonic zebrafish cells in three-dimensional confinement with direct force measurement by an optical trap.
If interested in intracellular and nuclear mechanics,  have to look at it here.
October 2021
---
Sebastian Hurst, Bart E. Vos, Matthias Brandt & Timo Betz
Nature Physics (2021). https://doi.org/10.1038/s41567-021-01368-z
In this work, the authors use optical tweezers to show intracellular softening, fluidification and decrease of active forces in mitosis that is mediated by a surprising role switch between microtubules and actin.
Impetux's force sensor is used to measure the cytoplasm's fluidity and stiffness changes of dividing cells.

It is the first time that the cell mechanics is characterized during mitosis from the inside
September 2021
---
An asymmetric mechanical code ciphers curvature-dependent proprioceptor activity
Ravi Das, Li-Chun Lin, Frederic Català-Castro, Nawaphat Malaiwong, Neus Sanfeliu,  Montserrat Porta-de-la-Riva, Aleksandra Pidde, Michael Krieg.
SCIENCE ADVANCES 17 Sep 2021 Vol 7, Issue 38 DOI: 10.1126/sciadv.abg4617
In this work, the mechanical activation of neuronal activity in C. elegans is studied by means of genome editing, modelling and direct force spectroscopy integrated in SENSOCELL optical tweezers. The system is also combined with spinning-disk confocal microscopy to monitor Ca2+ ion channel dynamics during axon membrane tether extrusion experiments.
August 2021
---
Frederic Català-Castro, Valeria Venturini, Santiago Ortiz-Vásquez, Verena Ruprecht, Michael Krieg.
J. Vis. Exp.(174), e62865, doi:10.3791/62865 (2021).
In this article, the authors describe in detail a new method and protocol using SENSOCELL optical tweezers to measure the forces and material properties that shape the cell nucleus inside living cells, exemplified on adherent cells and mechanically confined cells.
According to the authors,
The presented method is straightforward and can easily be extended to investigate the mechanics of other subcellular compartments, e.g., mitochondria, stress-fibers, and endosomes.
To deepen into the details of this protocol and look at the representative results shown, you can read the full article here.
For additional information, have a look at:
Our Customer Story.
Our Nucleus Mechanics Application page.
July 2021
---
Ion Andreu, Bryan Falcones, Sebastian Hurst, Nimesh Chahare, Xarxa Quiroga, Anabel-Lise Le Roux, Zanetta Kechagia, Amy E.M. Beedle, Alberto Elósegui-Artola, Xavier Trepat, Ramon Farré, Timo Betz, Isaac Almendros, Pere Roca-Cusachs
         Nature Communications 12 | 4229 (2021) |          
https://doi.org/10.1038/s41467-021-24383-3
This work provides a unifying mechanism to understand how cells respond not only to directly applied forces, but also to passive mechanical stimuli such as tissue rigidity or ECM ligand distribution.
To know the details of this interesting work have a look at the article here.
You can also read an interesting highlight by Jessica L. Teo here
March 2021
---
Corbyn Jones, Mauricio Gomez, Ryan M. Muoio, Alex Vidal, Anthony Mcknight, Nicholas D. Brubaker, Wylie W. Ahmed.
Phys. Rev. E 103, 032403 – Published 5 March 2021.
DOI: 10.1103/PhysRevE.103.032403
In this work, the authors use a customized optical trapping system from IMPETUX to study the stochastic force dynamics of a model microswimmer algaes (Chlamydomonas reinhardtii).  In particular, they directly measure the stochastic forces generated by the algaes using an optical trap via the photon momentum method.
To know the details of this interesting work have a look at the article here.
December 2020
---
In-vitro study of monocytic THP-1 leukemia cell membrane elasticity with a single-cell microfluidic-assisted optical trapping system
R. Ombid, G. Oyong, E. Cabrera, W. Espulgar, M. Saito, E. Tamiya, and R. Pobre
Biomed. Opt. Express 11, 6027-6037 (2020).
In this study, the authors used a customized optical trapping system from IMPETUX to characterize cell membrane elasticity as a new potential biomarker for leukemia cells, comparing measurements for cells treated with anti-cancer drugs and untreated cells.
October 2020
---
The nucleus measures shape changes for cellular proprioception to control dynamic cell behaviour
V. Venturi, F. Pezzano, F. Català-Castro, H.- M. Häkkinen, S. Jiménez-Delgado, M. Colomer-Rosell, M. Marro-Sánchez, Q. Tolosa-Ramon, S. Paz-López, M. A. Valverde, P. Loza-Alvarez, M. Krieg, S. Wieser and V. Ruprecht
SCIENCE | 16 Oct 2020: Vol. 370, Issue 6514, eaba2644. DOI: 10.1126/science.aba2644
For additional information, have a look at:
Our Customer Story.
CRG's web page
ICFO'S web page
SCB AWARD finalist  for a scientific publication considered to have contributed most significantly to the advance of biological science field, carried out mainly in Catalan-speaking territories
November 2017
---
F.Català, F. Marsà, M. Montes Usategui, A. Farré & E. Martín-Badosa
Application Notes from the IMPETUX's team of scientists
Here you will find the latest application notes released: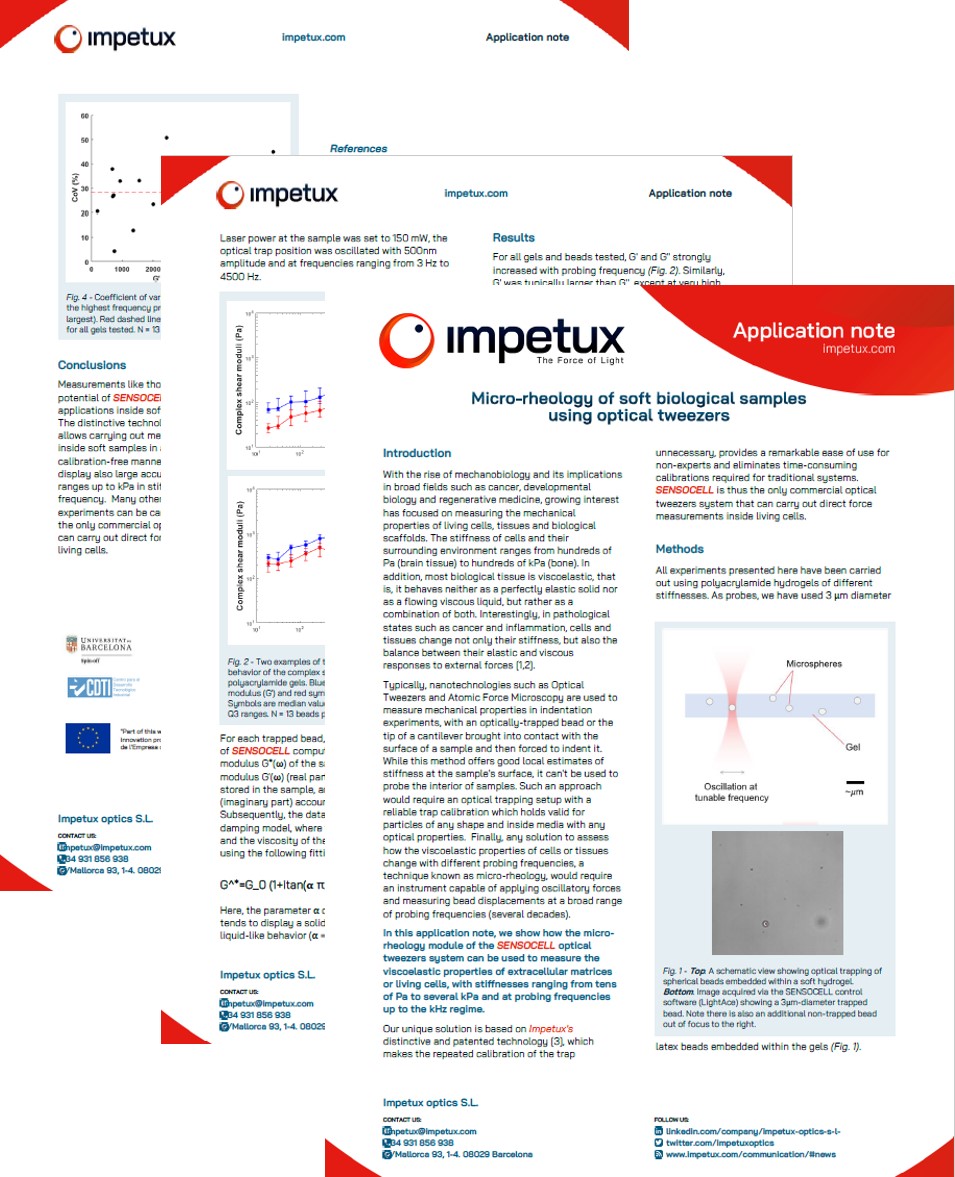 Micro-rheology of soft biological samples using optical tweezers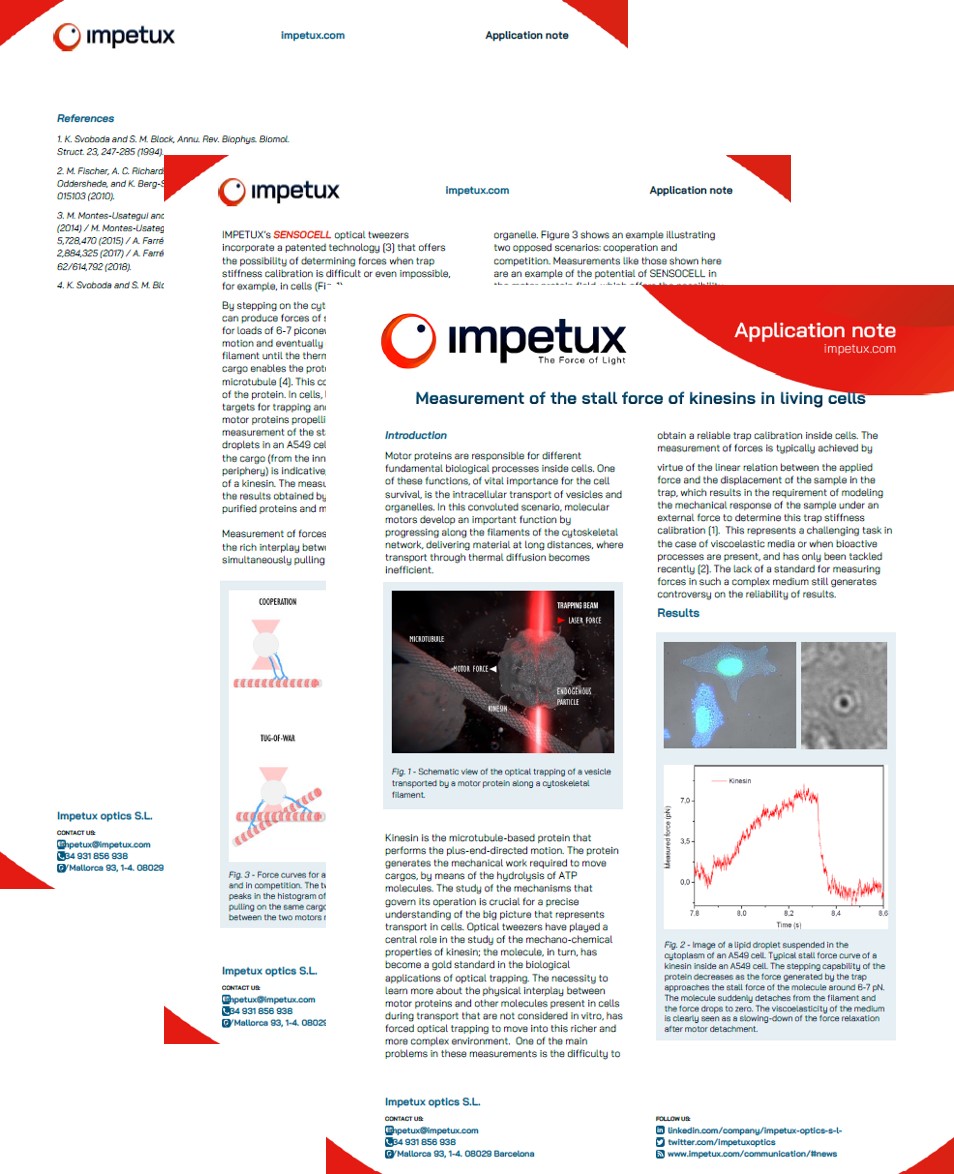 Measurement of the stall force of kinesins in living cells
Scientific Publications about IMPETUX's technology:
In this last section you will find a compilation of the different publications where the core technology of our systems is described and analysed:
Download SENSOCELL brochure